All Reed Diffusers are not created equal! You

can

have it all – Made in USA quality and Great Prices! No DPG! No Alcohol! No Pthalates! 

FREE SHIPPING for orders over $75 in continental USA.



Diffuser Reeds, Reed Diffuser Oils, ReedDiffuser Bottles, Supplies
Welcome to Reed Diffusers
Your one stop shop for all your Fragrance Diffuser Supplies. Diffuser Reeds, Reed Diffuser Oils, Reed Diffuser Bottles, Supplies. We specialize in outstanding customer service and prompt shipping. We also do custom labeling for any event you need! "Like" us on Facebook for a COUPON CODE you can use today! Click here.
We are so glad you dropped by! We're pleased to share an amazing collection of 100% Recycled Glass Bottles and Vases for your Reed Diffusers – the colors and quality are Brilliant – the prices are so low! And No minimums! Reed Diffuser Oils here are Made in the USA with no watered down substances – no DPG – no Alcohol – just long-lasting scents to impress your visitors with the knowledge that your home is a well-cared-for home.
SHOP NOW Diffuser Reeds, Reed Diffuser Oils, Reed Diffuser Bottles, Supplies
Bookmark this page for…
Eco-friendly reed diffuser oils– "green", alcohol-free, DPG-free oils. 7 sizes: 1 oz. (in sample packs), 2 oz., 4 oz., 8 oz., 16 oz., 32 oz., 128 oz.
Our Reed Diffuser Oils are environmentally friendly- "Green".

Alcohol-free

DPG-free

not diluted

strong and long-lasting scents

Made in USA to our high standards (Made in China oils can contain unregulated ingredients in their contents.)

specially formulated by experienced perfumers to stay strong scented in your reed diffusers for months– not weeks

Guaranteed to contain the perfect balance of ingredients to wick superbly through diffuser reeds without clogging
Choose from Made in USA pre-packaged gift sets, or create your own fragrance reed diffuser kits with our bottles, reeds, oils and packaging.
Cleaning Smelling Reed Diffusers   Favorite Reed Diffuser Bottles   Reed Diffuser Oils
Do you need replacement diffuser reeds, reed diffuser kits or reed diffuser oil refills for fragrance reed diffusers?   

Our diffuser reeds are 
superior, precision quality, straight cut diffuser reeds

uniformly porous diffuser reeds for maximum diffusion

fresh cut diffuser reeds with un-compressed cellular structure

How to Diffuse Scent with Diffuser Reeds

Pour the oil into the diffuser reed bottle.

Insert diffuser reeds.

Turn over once to expose oil-moistened diffuser reeds to air. The oil will continue to wick up the diffuser reeds,

scenting your room for several months.

Turn diffuser reeds occasionally to refresh scent.

When the oil is finally used up, pour in an oil refill and replace the diffuser reeds.

Absolutely no heat is needed to enjoy aromatic diffuser reeds. Add the element of aromatherapy to your personal space, and enjoy your favorite fragrance without the risk of fire. You'll never wonder if you blew out the candle!
Reed diffusers emanate no soot or film on your furniture, walls and ceiling. Safe for classrooms, offices, nursing homes, homes
V. I. Reed & Cane, Inc.
V. I. Reed & Cane has been in the reed business for 33 years. We have standard size reeds for reed diffusers. We also custom cut diffuser reed to your specifications for your reed diffusers. Cut in the USA for reliable turn-around times. Large or small quantities welcome. 
Questions? Visit our Diffuser Reeds page for pricing on quantities 100 through 10,000 reeds. We have reeds in  2.75 mm, 3 mm, 3.25 mm.  Contact us for 4 mm prices for wholesale. Reed Diffusers work well with any diameter. 2.75 mm is the most common size. In recent years, additional diameters have become popular.
Some of our Reed Diffuser Products are…
Customers tell us that ours are the best wicking diffuser reeds they've ever bought! 
See for yourself the superior wicking quality of our reed diffuser sticks.  For pricing on larger amounts, e-mail [email protected].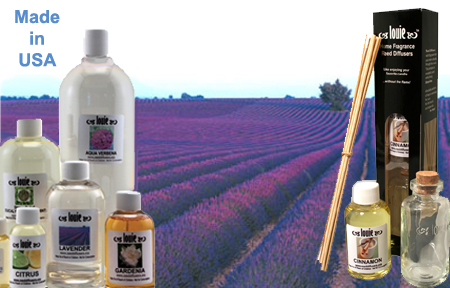 Diffuser Oils
Absolutely the Only place where you can create your own personal style in reed diffusers by choosing from 100+ bottles and dozens of scents! ..and at a great price too! Can't beat it.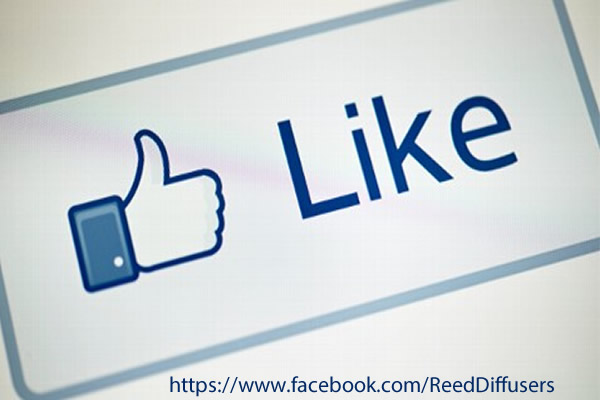 Like Us on Facebook
Like us on Facebook and receive a special coupon for shopping at Reed Diffusers
Like us on Facebook Special

»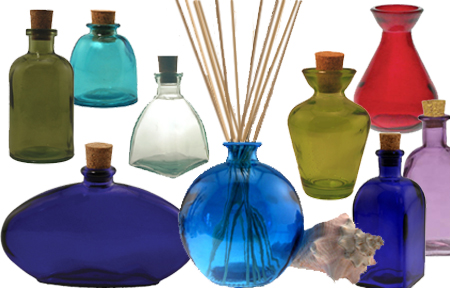 Reed Diffuser Bottles
Many of our beautiful Recycled Glass Bottles and Vases have been created exclusively for us and are available from no other source. All of our bottles are 100% Recycled Glass Made in Spain for the highest quality. You'll immediately notice how superior these bottles are to inferior copies. The clarity, smoothness and depth of color are simply unbeatable.
© Copyright Reed Diffusers - Theme by Pexeto